Does the first generation build, the second enjoy and the third destroy?
The truth is generational change is one of the most critical points in time for a business-owning family and the main reason for the disappearance of family businesses.
An approaching succession in a family business, an illness, a conflict of interests between siblings or children that has gone on for years, leaves by key people, etc. These are situations that can make it clear the future of one's company and family will not be as peaceful and idyllic as once imagined.
There are no miracle solutions to these problems. In most cases, a protocol is not usually the most-recommended tool. A family protocol is a tool for closing a process of adjustment and fine tuning in a family and company. It is a consequence.
Before getting started…
Is the company duly governed and managed or are there fights to gain power?
Is the working climate appropriate?
Do we have a general plan or strategy even if rather simple? Is it known to the entire organisation or only in the Managing Director's head?
Is money needed?
Is the person managing putting out fires or the owner of his/her own agenda?
Is the family speaking in a coherent manner about importance aspects involving the company or is it always a source of conflict?
Have children or family members joined the company in an improvised or forced way yet are not well-prepared or don't really do their work as they should?
Are our assets organised, protected and face minimal risk?
Does the family get periodic accurate information on the company?
Should the owner have already retired yet doesn't want to pass on the torch to the next generation for whatever reason?
There are siblings who feel they have been unfairly treated in comparison to others.
The family don't feel they will be better united and are not willing to make compromises or efforts to change the situation.
It is not possible to meet all the needs and resolve all the problems at the same time. It is necessary to analyse, prioritise and act.
The first thing the business-owning family needs is in-depth and organised dialogue leading to a FAMILY-COMPANY GLOBAL PLAN identifying and agreeing to the challenges, priorities and way in which the company succession should be approached. And then, work.
At Japón Matarí, we've been guiding family businesses through this process for years. And we do so by putting the focus on 4 cornerstones we believe must be under a successful family business:
Family: people are the most important assets and the family must be a guarantee for continuity and a sense of implication.
Company: the company must unite the business-owning family.
Assets: good assets bring peace and plenitude.
Initiative: initiative and innovation must be drivers of long-term sustainability.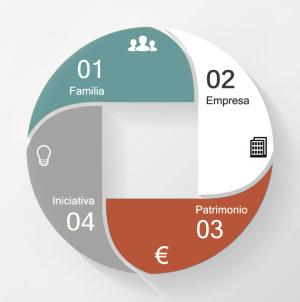 Solutions and tools
Mediation and conflict resolution

Guidance when selecting, training and preparing the successor team.

Assistance for the outgoing generation in planning their next phase in life.

Creating or revising corporate governance: family board, board of directors and family assembly.